NOTE: This page is still here for archival purposes. Please see www.worldtradeaftermath.com for updated information. If you are looking for my homepage, it is at johnhaller.com.
Terrorist Attack On The USA
This morning, the United States suffered a terrorist attack. The World Trade Center was hit by 2 seperate planes. Here are the images I see from my window.
After the Attack: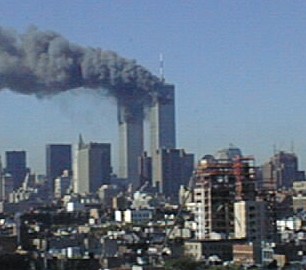 After the tower fell: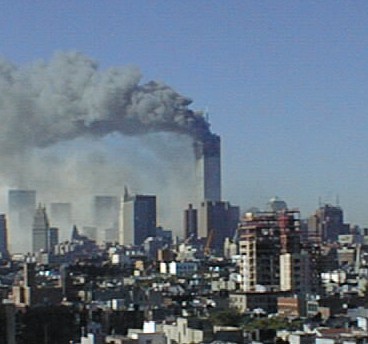 After the 2nd tower fell:
View as of 2pm EDT:
Southern Manhattan Night Sky (not live):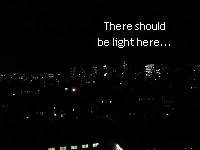 UPDATE (Sept 12, 2001 @ 3:43pmEDT): www.worldtradeaftermath.com is now live and will serve as a central information source for this disaster. Any additional information and comments can be sent to me: contact me.
UPDATE (Sept 18, 2001): I've heard firsthand reports from friends of the disaster and the panic that ensued. From the number of companies reporting in that they have many or all employees safe, it seems that the earliest fears of 10,000 to 30,000 dead will, hopefully, not materialize. That being said, there are still over 5,000 people missing. Most families have already been able to locate their loved ones that made it out and are safe or hospitalized. Some people are still being confirmed safe by their companies, so if you are looking for friends or coworkers and have not been in touch with their family, they may still be located. Unfortunately, noone has been found alive at the disaster site since Wednesday, so hope is fast slipping away. There is still hope, and you should not give up. In earthquakes, people have been found up to 2 weeks afterward trapped in air pockets, so there is a chance. Best wishes to all of us in finding those we care about...
UPDATE (Unknown): Please keep hoping! I have first and second-hand reports that the evacuations began almost immediately after the 1st plane hit. Both buildings evacuated relatively quickly. I have reports from people from the 1st, 61st, 88th and 99th floors of tower 1 that they and their whole offices made it out alive. If your loved ones were in tower 1 or in one of the other buildings, I believe there is a good chance they are ok. If your loved ones were in tower 2 and below floor 80 (a guess) there is a good chance they are alive. Even if there are above that floor, there is still a chance. Whether you pray, meditate, hope, wish or any combination, please do it! Every little bit might help. My thoughts are with everyone touched by this tragedy.
UPDATE (Unknown): I have heard reports of people escaping from as high as the 88th floor of World Trade Tower 1. There may be a good chance people below the 88th floor on Tower 1 are still alive. (we've heard of people getting out of that tower from the 1st, 61st and 88th floor). Also, I heard that they were evacuating the rest of the World Trade complex soon after the 1st plane hit, so people in the adjoining buildings may have also made it to safety. The phone systems are still heavily overloaded. Please stay off of them except for emergencies. 7th Avenue has been shut down to serve as the major artery for getting supplies and rescue workers in and injured out.
UPDATE (Sept 11, 2001): Apparently they began evacuating both towers after the 1st plane hit this morning. My roomie's cousin Angelo was in Tower 2 when the plane hit the 1st tower. He was being evacuated and in the stairwell when the second plane hit. He got out from the 61st floor before the building collapsed. Please let others know that even if they have friends and loved ones who were in the buildings, there is a chance they may be ok. Obviously, the lower the floor, the better the chance.
IF YOU ARE IN NEW YORK CITY... PLEASE GIVE BLOOD. THEY WILL BE NEEDING ALOT OF IT. MOST HOSPITALS ARE NOW SETUP FOR DONORS.
Status of friends:
Melissa Doi - MISSING - Last heard from on the 44th floor of WTC2.

Alev Suer - SAFE - Confirmed later from a mutual friend.
Gisella Beltramini - SAFE - In NJ at parents house
Diana Castro - SAFE
Edmundo Cudanes - SAFE - Was by Deutsche Bank when 2nd plane hit, hid behind pillar to avoid debris.
Mariah Gaughan - SAFE
John Haller (me) - SAFE - At home on 14th St
Courtney Krysty - SAFE - At home
Veronica Price - SAFE - Was just outside tower when 1st plane hit.
Angelo Pulido - SAFE - Escaped from tower 1, 61st floor. Was in stairwell when 2nd plane hit.
Vickia Batsedis - SAFE

Other SAFE Folks From Around The Web:
Stephen Burrows
Eric Curtis, Brooklyn, NY
Ellen Datlow
Shirland Leader, Queens, NY
Robert Lee Morris
John Ordover
Raquel R. Sanchez, Bronx, NY
Richard A. Vernon, Ossining, NY
(Name Removed By Request)

Please email me if you are ok!